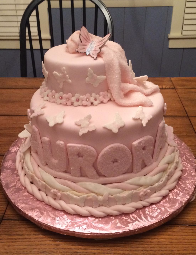 At The Cake Fairy, we mix age-old traditions with modern baking ideas. Working on a 24-hour basis, we start the baking process in the wee hours of the morning and continue working late into the night. A baker's job is never finished.
The goal is to make the finest baked goods around. And let's be honest, if it's made from a box, it tastes like it too! Our products are never made from a box, only fresh, delicious ingredients are in our products.
Only the Best Homemade Products are Fairy Approved

Breads
Fudge Cupcake
Baby Shower
Bridal Shower
Pie
Cheesecake
Wedding Cakes/Cupcakes
Large or Small Cakes
Favors
Children's Parties

Using wholesome fresh products, all of our goods are made in small batches. The batches are pulled and shaped by hand, as dough always turns out better when in the hands of a skilled baker.

The flavors and the subtle differences that come out of our batches will truly make you a believer in our products. We invite you to try one of our signature cupcakes or something from our menu.Either way we know you will absolutely love every last crumb.

Head Fairy Lisa has been making creations since she was 15. It has been a life long dream and passion to open the Cake Fairy and deliver the best products possible to her clients. This is a tradition she has passed down to her Daughter Head Fairy Brianna.